5 Hours - Cape Sounion - Temple of Poseidon
Start of the tour is a beautiful drive of about an hour and a half from Athens to Cape Sounion. The scenic drive along the Attica Riviera is actually a highlight of the tour as you will enjoy the beautiful seaside leading from Athens all the way to Cape Sounio. About half way to cape Sounio, the scenery changes from an urban to a more sparsely populated and rugged landscape. The small beaches and seaside resorts make for a very nice drive up to the Cape.
Cape Sounio is the most southern point of Attica and looks on to the Aegean Sea. At the tip of the cape the ancient Greeks built a magnificent temple to honor the god of the Sea, Poseidon. The temple that stands today was built at the fifth century BC and replaced other buildings that were already built at the area. The site has a very long history not only as a place of worship but also as a strategic vantage point that allowed for shipping lanes to and from Athens to be controlled.
The site itself is quite modest, the Doric columns that stand today are a reminder of what the site used to be; it is very easily understood how impressive this site must have been. Only some columns of the Sounion temple stand today, but when intact it would have closely resembled the contemporary and well-preserved Temple of Hephaestus beneath the Acropolis.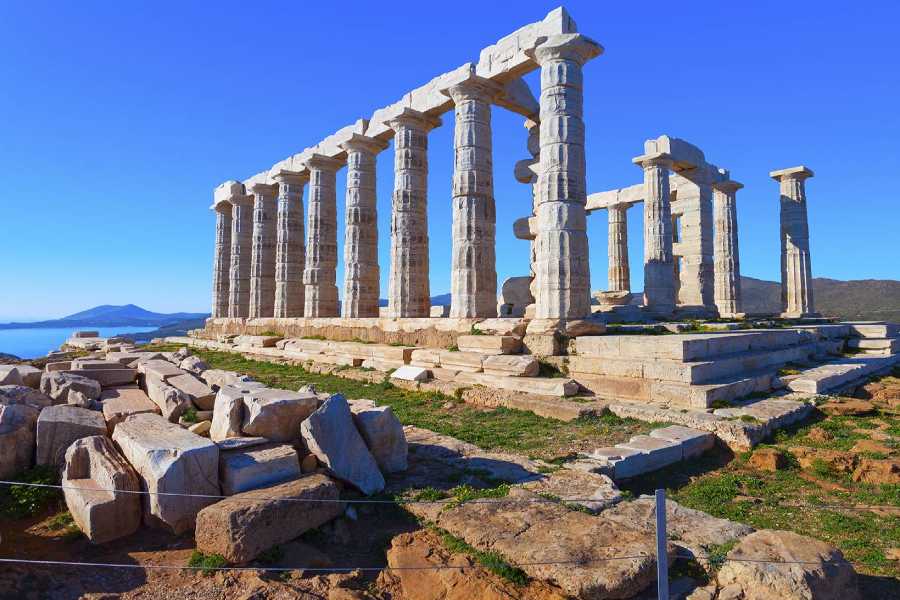 Duration: +/- 5 hours

Included: 
Private A/c vehicle & driver, licensed English-speaking guide, entrance fees, taxes
Plan an Unforgettable Experience with us Today!
We can help you fit your stay and experience within your allotted budget.