Day 1:
We begin our fascinating tour with a scenic drive to Delphi via the National Highway through the spectacular sites of Boetia, Thebes and Levadia to visit one of the most famous Monasteries of Ossios Lucas, known for its byzantine architecture and the golden mosaics, built in the 11th century.
After a short stop at the monastery, we continue towards Arachova, one of the most famous and popular winter destination in Greece. Arachova is a lovely, picturesque mountain village, built on the south slopes of Mt Parnassus. It is famous for its bright multi-colored carpets and several local products including fresh pasta and cheese. We continue to Delphi, the ancient sanctuary of Apollo. We will visit the Delphi Museum where you can see among others the
archaeological treasures of the ancient oracle, the unique bronze Charioteer, and the sacred way to the Athenian treasury.
After Delphi, we will continue through the towns of Amphissa, Lamia, Trikala and drive through the Thessaly plain, the granary of Greece, to reach Kalambaka, in the late afternoon, where we will spend the night.
Day 2:
After breakfast, we start our tour to the breathtaking monasteries of Meteora, which is part of UNESCO' s World Heritage Sites, built on the top of high rocks. This is one of the most imposing sites you have ever seen and breaths history and beauty at the same time. Visit two of the six monasteries still in use. Upon completion of the Monasteries tour, you will have lunch at Kalambaka, before head back to Athens. On the way back you will pass by Thermopylae, the famous Hot Gates, where the Spartans and Persians met in the famous Battle of Thermopylae in 480BC. Arrive in Athens late in the afternoon.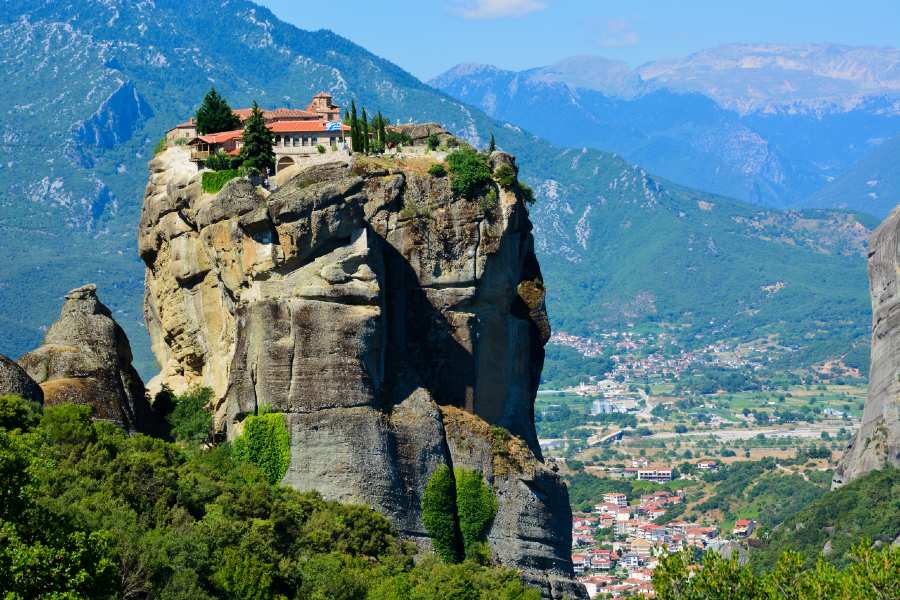 Duration: +/- 2 days / 1 night
Included: Private A/c vehicle & driver, licensed English-speaking guide, guide & driver accommodation, entrance fees, taxes.
Plan an Unforgettable Experience with us Today!
We can help you fit your stay and experience within your allotted budget.