5-Hours - Akrotiri Excavations & Oia Tour
Start with a scenic drive north-west to the picturesque Oia, the scenic village on the edge of Santorini island. Oia is certainly the most beautiful and picturesque village on the island, situated on top of an impressive cliff and offers a spectacular view over the volcano. Discover this traditional village with charming houses in narrow streets, blue-domed churches, and the sun-bathed verandas. Its famous cobblestone streets feature plenty of tourist shops, taverns, cafes, and other shops.
Continue to Akrotiri, a Minoan Bronze Age settlement preserved in volcanic ash from the ancient eruption of Thera. The settlement has been suggested as a possible inspiration for Plato's story of Atlantis. Admire the large extent of the settlement, the elaborate drainage system, the sophisticated multi-stored buildings with the magnificent wall-paintings, furniture and vessels, show its great development and prosperity. In contrast to the Minoan palaces in Crete, here findings indicate a culture with a more human face and a better distribution of wealth.
We return to Fira, the capital, where you will have free time to explore on your own. Many of its blue-domed churches were constructed during Venetian invasion and offer impressive views of the sea and the island.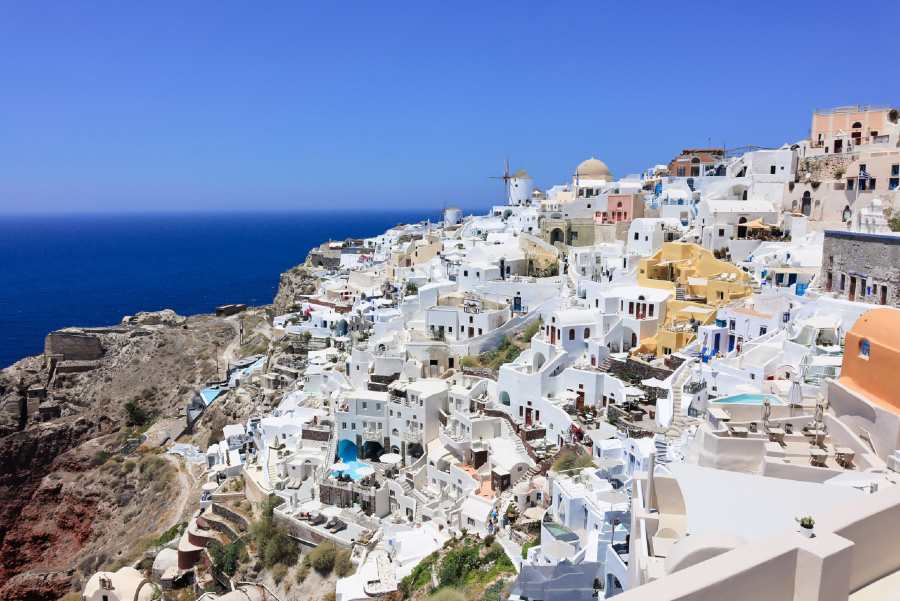 Duration: +/- 5 hours

Private A/c vehicle & driver, licensed English-speaking guide, olive oil tour fees, taxes.

Plan an Unforgettable Experience with us Today!
We can help you fit your stay and experience within your allotted budget.