5-Hours - Santorini Island and winery tour
Santorini is a unique phenomenon both in terms of landscape and historical significance. The views from the island are unique, hence, a thrilling tour take you to the island's gorgeous villages, such as Fira and Oia that offer breathtaking views to the Aegean Sea and the Caldera of Santorini. This thrilling excursion in Santorini offers you the chance to discover the magnificent treasures of this unique island. Spectacular views, lovely villages and unique wine tasting.
We continue our tour with a visit to one of the most famous traditional wineries of Santorini. Santorini is renowned for its fully flavored wines. Santorini has a long tradition in viticulture, counting at least 3,500 years. The unique climate combined with the soil composition has made the vinified varieties give wines a distinctive personality. The rare aromas of the authentic sun-dried wines of Santorini are reminiscent of honey, raisin, fig, and walnut. During your wine tasting, your English-speaking enologist makes an interesting wine-tasting tutorial and gives you hints about Santorini's vineyard, which is the oldest in Europe.
We return to Fira, the capital, where you will have free time to explore on your own. Many of its blue-domed churches were constructed during Venetian invasion and offer impressive views of the sea and the island.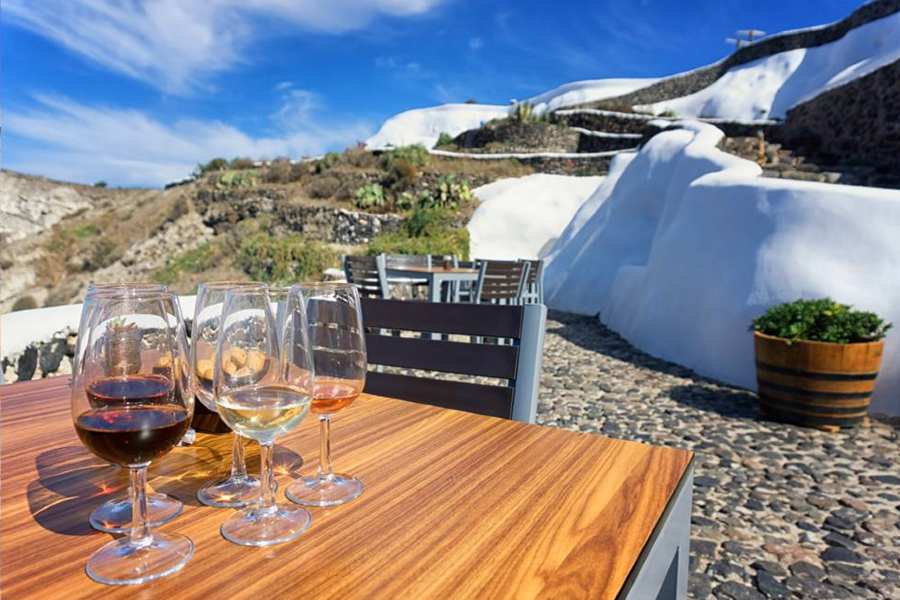 Duration: +/- 5 hours

Private A/c vehicle & driver, English-speaking escort, winery fees, taxes.
Plan an Unforgettable Experience with us Today!
We can help you fit your stay and experience within your allotted budget.